Pipes & Fittings

Coroseal designs & manufactures FRP (Fibre-Reinforced Plastic) pipes and fittings for varied applications. Coroseal can fabricate Pipe, Duct & Fittings upto 3000 mm Diameter and length 12000 mm. The pipes and ducts are manufactured mainly by Hand Lay-up or filament winding processes depending on the design conditions specified. To reduce field assembly time and project costs, along with maintaining the product quality, Coroseal expertise's in fabricating pipes as per drawings provided according to the site conditions at our facility in the longest practical shippable lengths. The joints either can be butt & wrapped or flanged.
FRP Pipe, Duct & Fittings surpass other materials of construction in a broad spectrum of corrosive environment and temperature. That's because these pipes and ducts are mechanically very strong and can tackle high pressure and vacuum.
Dual Laminate Piping
In Addition, Coroseal manufactures thermoplastic lined FRP (dual Laminate) pipe for varied applications. Coroseal have combined various thermoplastic and fluoropolymers liners (PVC, C-PVC, PP, PE, PVDF, E-CTFE, FEP etc.) with glass fibre reinforced polyester resins.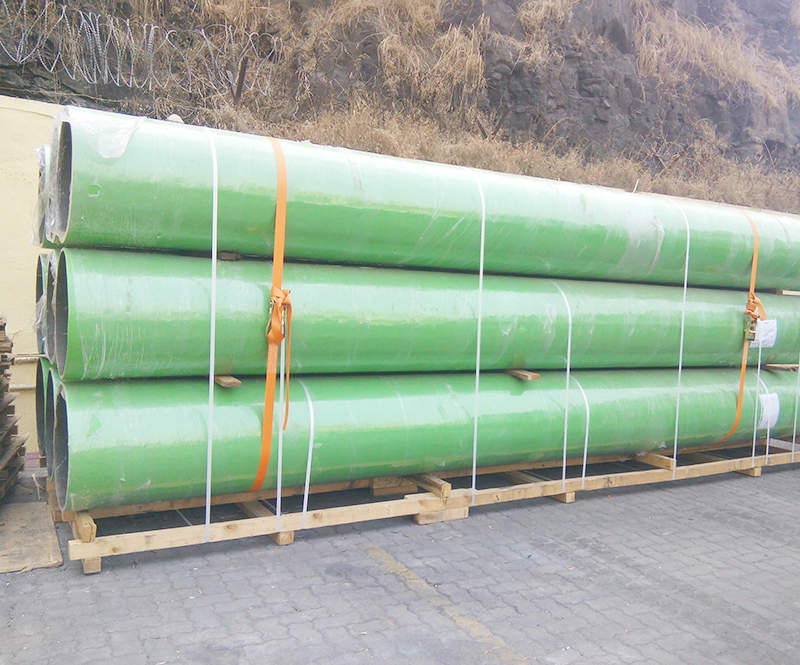 Elbow
Concentric & Eccentric Reducer
Full Face & blind Flange
Stubend with loose Backing Flange
Equal & Unequal Tees
Spool Pieces
Headers
DIN 16965/16966 AWWA C950
ASTM 2310/2992/2996 BS 7159
ISO 14692
IS 12709/14402
API
ABS
PS 15-69
FRP
Dual laminate (PP, C-PVC, PVDF, MS)
Thermoplastic (PP, C-PVC, PVDF)
Metal (MS, SS)
Acrylic